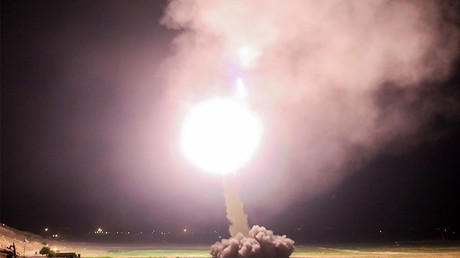 Tehran has warned ISIS militants that any future attacks on the country will result in powerful strikes against the group. It comes after Iran launched missile strikes on ISIS in retaliation for twin attacks in Tehran earlier this month. Read Full Article at RT.com ...
7 Published By -
RT - Daily news
- 2017.06.19. 12:41
Related Posts
New In Last Hour
Southern rail drivers balloted on fresh strikes Network Front | The Guardian (Today) - Aslef union ballots members on strikes over pay, with first walkout possible at start of school holidaysSouthern rail drivers are to be balloted for strikes over pay, threatening disruption at...
Older News
Iraqi military says ISIS blew up iconic mosque in Mosul World - CBSNews.com (Today) - Iraqi commanders have been warning for weeks that ISIS would blow up the al-Nuri mosque rather than see it return to Iraqi forces; It was where ISIS leader Abu Bakr...
Iconic mosque where ISIS leader declared caliphate destroyed World - CBSNews.com (Today) - Iraq's Ministry of Defense said ISIS detonated explosives inside Mosul's al-Nuri mosque, but ISIS claimed a U.S. airstrike was to blame --which the U.S. disputes...
US says ISIS blew up the mosque where the 'caliphate' was declared CNN.com (Today) - The United States and Iraq are blaming ISIS for the destruction of an iconic mosque that stood over the embattled Iraqi city of Mosul for eight centuries....
Downing of drones in Syria threatens to draw U.S., Iran further into war USATODAY - News Top Stories (Yesterday) - Trump administration willing to try and blunt Iran's expansionism in Syria, analysts say       ...
Former White House Sr Advisor Warns "Risk Of A Big War Is Rising" Due To "Washington's Dangerous Cult Of Credibility" Zero Hedge (Yesterday) - Authored by Brad Hoff via The Libertarian Institute,Russia will not back down, and neither will its Syrian and Iranian allies on the ground, says a former White House insider.After the...
Delta Plane Lands Safely At Kennedy Airport After Laser Strikes CBS New York (Yesterday) - Police said Delta Flight 2294 was approximately four miles northwest of Republic Airport in Farmingdale when the strikes occurred at 12:02 a.m....
Iran's ballistic missile capabilities Al Jazeera (Yesterday) - Iran this week fired missiles at another country for the first time in three decades....
Syrian army advances on Damascus outskirts, says Hezbollah-run outlet Daily MailOnline (Yesterday) - BEIRUT, June 21 (Reuters) - Syrian government forces recaptured territory on Damascus' eastern outskirts from rebels on Wednesday after stepping up attacks......
Saudi Arabia's new crown prince Mohammed bin Salman is good news for Israel and U.S. Haaretz.com (Yesterday) - Saudi crown prince Bin Salman agrees with U.S. on Russia, Assad, Iran and ISIS and according to some reports, he's also met with top Israeli officials...
Report: Iran Collaborating With N. Korea on Extensive Ballistic Missile Development CNS News (Yesterday) - Iran has intensified its development of ballistic missiles in recent years, particularly since the conclusion of the nuclear deal, and is doing so with significant collaboration with fellow pariah state...
Japan missile defense drill aims to ease concern over North Korean threat Reuters: Top News (Yesterday) - TOKYO (Reuters) - Japan opened a missile defense drill to the public on Wednesday, a move it says will reassure the country it is ready to counter any missile attack...
Battle for eastern Syria risks US, Russia and Iran confrontation Financial Times (Yesterday) - Rival forces' scramble to oust Isis heightens danger of international flashpoint...
After The ISIS War, Is A US-Russia Collision Inevitable? Zero Hedge (Yesterday) - Authored by Patrick Buchanan via Buchanan.org,Sunday, a Navy F-18 Hornet shot down a Syrian air force jet, an act of war against a nation with which Congress has never declared...
It's Israel's interest to provide power to Gaza, but not while Hamas digs terror tunnels, Israeli army chief says Haaretz.com (2 days ago) - Gadi Eisenkot says situation in Gaza in 'explosive,' says more focus should be put on confronting Iran and not just destroying ISIS...
White House pushes to free U.S. prisoners in Iran after Warmbier's death Politics - CBSNews.com (2 days ago) - Trump officials met with Babak Namazi whose father and brother are currently imprisoned in Iran...
Iran's leader warns Iraq not to weaken Shi'ite militias Daily MailOnline (2 days ago) - LONDON, June 20 (Reuters) - Iran's Supreme Leader Ayatollah Ali Khamenei warned the Iraqi Prime Minister Haider al-Abadi on Tuesday against any measures......
The Latest: Israel disputes success of Iran missile strike Daily MailOnline (2 days ago) - BEIRUT (AP) - The Latest on the developments in Syria (all times local):10:30 p.m.Israel's military Chief of Staff is disputing Iranian claims of......
Pentagon confirms death of ISIS leader in Syria Infowars (2 days ago) - ISIS had announced Al-Bin'ali's death earlier this month...
Iran's top leader opposes Iraqi Kurdish independence vote Daily MailOnline (2 days ago) - TEHRAN, Iran (AP) - Iran's Supreme Leader Ayatollah Ali Khamenei has spoken out against a referendum on independence for Iraqi Kurds set for later this......
The U.S. Military Can't Get Out (No Matter The Country Or The Conflict) The Huffington Post (2 days ago) - Cross-posted with TomDispatch.comNot that anyone in a position of power seems to notice, but there's a simple rule for American military involvement in the Greater Middle East: once the U.S....
The US Says It Doesn't Want To Fight Syria — But It Keeps Fighting Syria Anyway BuzzFeed (2 days ago) - The US and its allies used to fight against ISIS in eastern Syria in relative isolation. Now the Syrian government, Russia, and Iran are all pressing in closer, raising the...
Iran's missile attack on Syria failed: 5 missed, 3 landed in Iraq Haaretz.com (2 days ago) - The attack on ISIS targets inside Syria was meant as a message to Saudi Arabia and the U.S. It was also a resounding failure, with three missiles missing Syria altogether...
Krauthammer: Iran Aims to Fill the ISIS Vacuum in Syria CNS News (2 days ago) - Fox News political analyst Charles Krauthammer says that within a year, ISIS will be defeated in both Mosul (Iraq) and Raqqah (Syria), and the "maneuvering" to fill the ISIS vacuum...
Iran protests against Tillerson 'transition' remarks Daily MailOnline (2 days ago) - Iran has called in the Swiss charge d'affaires, who looks after US interests, to protest against comments by Secretary of State Rex Tillerson backing......