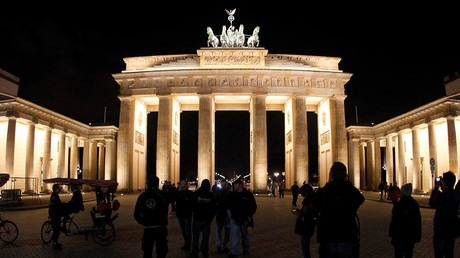 About seven in 10 people across Europe hold a favorable opinion about
Germany,
even though almost a half of Europeans believe that Berlin has too much influence over the EU decisions, a recent study conducted by the Pew Research Center shows. Read Full Article at RT.com ...
3 Published By -
RT - Daily news
- 2017.06.16. 20:39
Related Posts
Older News
Half of Britons want higher taxes for increased public spending, survey claims Daily Express (Today) - NEARLY half of Britons want the Government to raise taxes and increase spending, policies championed by Jeremy Corbyn, an annual poll of public opinion revealed....
BJP candidates for Assembly election to be chosen after survey The Hindu (Yesterday) - B.S. Yeddyurappa, BJP State president, has said the selection of candidates for the ensuing elections to the Assembly will be done based on the report of a survey yet to...
Berlin police officers fired from G20 summit for 'having sex in public & urinating on fences' RT - Daily news (Yesterday) - Three units of Berlin police who were sent to Hamburg to secure the upcoming G20 summit were released from duty and sent home following serious misconduct during a rowdy "party."...
'Embarrassing' Berlin police removed from G20 security duty The Seattle Times (Yesterday) - BERLIN (AP) — A group of Berlin police officers helping with security ahead of next week's Group of 20 summit in Hamburg has been sent home after some reportedly partied...
Two giant pandas explore new home, feast on bamboo at Berlin zoo Daily MailOnline (Yesterday) - BERLIN, June 27 (Reuters) - Two giant pandas set to become the star attractions at the Berlin zoo are exploring their new living quarters and enjoying......
SophieAM published This is the hottest baby name right now - and it's a bit... Canterbury Times (Yesterday) - The hottest baby name right now has been revealed, with more than half of mums and dads saying they would consider the choice.Many parents have named their children after popular...
Wild partying German policemen dismissed from G20 security team Daily MailOnline (Yesterday) - BERLIN, June 27 (Reuters) - Police units sent from Berlin to help secure a G20 summit in Hamburg next week have been sent home after media reports that......
United States' global image suffering under Donald Trump's presidency: survey Deutsche Welle (Yesterday) - The international community has little trust in US President Donald Trump's foreign affairs expertise, a survey shows. The Pew Research Center study is the latest of several to issue similar...
Europe's once positive world view of US slips under Trump The Seattle Times (Yesterday) - WASHINGTON (AP) — Slightly more Europeans now view the United States unfavorably than favorably under President Donald Trump. That's one of the findings of a new Pew Research Center survey...
German leaders, lawmakers pay tribute to Kohl at Berlin Mass The Seattle Times (Yesterday) - BERLIN (AP) — German leaders and lawmakers are paying tribute to former Chancellor Helmut Kohl, who spearheaded the country's reunification during 16 years at the helm, in a requiem Mass...
Blacks and boomers now back gay marriage as overall support surges The Salt Lake Tribune (2 days ago) - New York • In the two years since same-sex marriage was legalized nationwide, support for it has surged even among groups that recently were broadly opposed, according to a new...
Europeans back allocation of asylum seekers proportionally, study finds Network Front | The Guardian (2 days ago) - Survey asked what kind of asylum system is fair, with 72% saying countries should receive applications according to capacity rather than current systemThe majority of Europeans support proportional allocation of...
Iran urges Europe to help promote dialogue in Gulf Daily MailOnline (2 days ago) - BERLIN, June 26 (Reuters) - Iranian Foreign Minister Mohammad Javad Zarif called on Monday for Europe to use its influence to defuse tensions in the Gulf......
Berlin demands costly German recall of 12 mln diesel cars - sources Daily MailOnline (2 days ago) - BERLIN, June 26 (Reuters) - Germany's Transport Ministry is in talks with car manufacturers about updating the engine management software of up to 12......
German business confidence reaches new record high The Seattle Times (2 days ago) - BERLIN (AP) — A survey shows that business confidence in Germany has risen to another record high as managers' view of both their outlook and their current situation brightens. The...
'Jubilant' German Ifo business morale hits record high Daily MailOnline (2 days ago) - BERLIN, June 26 (Reuters) - German business confidence unexpectedly rose in June to a record high, a survey showed on Monday, in a fresh sign that company......
UK on track to miss carbon emissions target due to stalled energy policy Network Front | The Guardian (2 days ago) - Survey by Energy Institute finds industry professionals think policy is 'on pause' and warn Brexit is 'material concern'The UK's ambitious target of slashing carbon emissions by more than half within...
Monday briefing: PM makes Europeans same but different Network Front | The Guardian (2 days ago) - May seeks to make Europeans reasonably welcome … more high-rises fail on safety … heroes soften theme park plungeGood morning to you. Graham Russell here with what's happening at the...
Tiffany Trump posts Instagram photo from Berlin Daily MailOnline (3 days ago) - Tiffany Trump has been spotted soaking up some sun on a European vacation in Berlin, Germany, while her family attended a glitzy DC wedding in Washington....
Europeans learn to live with — and adapt to — terror attacks The Seattle Times (3 days ago) - PARIS (AP) — The jihadis' targets in Europe are depressingly repetitive: the Brussels metro, the Champs-Elysees in Paris (twice), tourist-filled bridges in London (twice) and a U.K. rock concert. And...